We aren't talking about USB coffee warmers or pen holders. Here are 10 things you could actually use around your video editing workstation.
Make 14-hour editing sessions tolerable by getting your editing workstation in order. Here are some helpful things to have around your editing suite.
Note: We're not sponsored by any of the products or vendors listed below. We encourage you to purchase products at the retailer of your choice!
1. Pen Tablet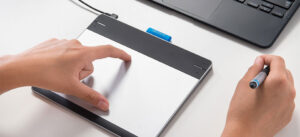 Most video editors I know do their work with just a keyboard and mouse, but there are others, that simply swear by a tablet for a faster and more efficient editing experience. Wacom has made a name in recent years as the go-to manufacturer of pen tablets for creative professionals and their marketing to post-production pros, touting the benefits of better ergonomics, custom button mapping and a more fluid animating process.
If using a tablet seems intimidating, you can get in at a lower price point for some of the entry-level models under $200. Give it a try in your editing work. If it sticks, upgrade to the Intuos Pro line and have your starter tablet as an on-the-go solution.
2. USB Hub
When you have a project on multiple hard drives and you already have your mouse or Wacom tablet hogging a port, you are going to need more USB ports. This is especially true when working on a laptop. Expand your USB capabilities with a hub…but avoid cheaply made hubs that likely won't hold up to long term use (or being tossed around in a backpack). We love these aluminium Mac inspired models:
3. Uninterruptible Power Supply
If you're not editing with a battery backup, I'd guess you haven't lost hours of your video editing work…yet. It's a must-have in every editing suite. Uninterruptible power supply (UPS) is just a fancy name for a battery backup. APC is the market leader for UPS units. They will guard your system against power surges and when there is an outage, they can provide ample time to back up your work and shut down your computer.
The main things to look for when purchasing a UPS are the output power capacity and the number of outlets. With many units, not all the outlets have battery backup (some may just provide surge protection). UPS units vary in the amount of power capacity they provide. To calculate the output power capacity you'll need, you'll need to determine the average wattage load of your computer system and how long you would want that system to power solely off the UPS. An in-depth post over at HowToGeekdoes a great job at explaining this in-depth with calculations for figuring out how long your computer (and peripherals) could run on various UPS units. It's worth checking out.
Lastly, make sure your clients are covered. If you have a client desk/table in your edit suite it should also have a power strip with surge protection (important distinction!)
4. Comfortable Chair
That rolling office chair you found in the dumpster may have been great in college, but when you sit in that chair for too long, your back and butt will hate you. You don't need to spend $1000+ on a Herman Miller or Steelcase chair to be comfortable but you do need to take the following things into consideration when chair shopping.
Adjustability/Ergonomics: Most chairs have up/down and recline but is the seat depth also adjustable? Can you set the armrest height?
Material: Leather and vinyl chairs tend to trap body heat and reduce air circulation. Opt for breathable mesh that can make gruelling edit sessions a little more bearable.
Test Drive: You're going to be married to your chair…and you wouldn't marry someone without getting to know them first. If you can, go to a local showroom and try out the different chairs. However, showrooms and furniture stores typically come with a higher price tag than online options like Amazon. Although you can return items that come from Amazon direct, many Amazon resellers have policies that don't allow you to return furniture…especially if you assembled it. Be sure to thoroughly check the return terms before you purchase a chair online.
Product Reviews: We furnished our office with chairs purchased online, but used customer reviews to guide the decision on which product to buy. The trick is to look for follow-up reviews, those reviews created after the customer has spent some serious time with the chair. Most chairs are comfortable at first, so hearing from someone that's given it a thorough sit will provide the best feedback.
5. Speaker Stands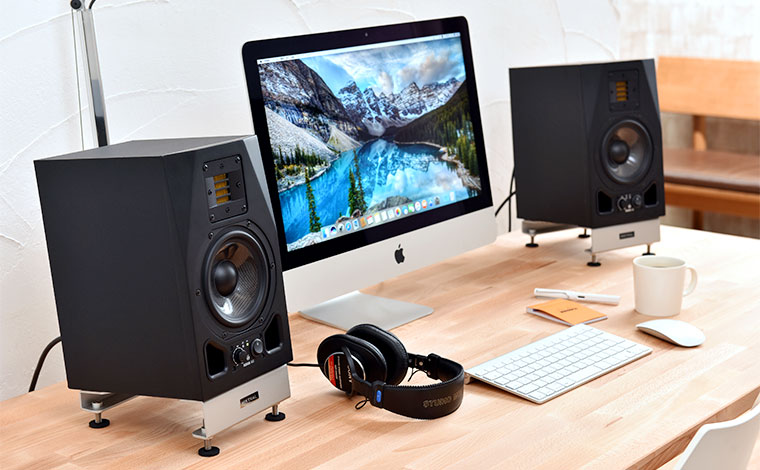 Some video editors spend loads of cash on high-end speakers but miss a key component in their audio setup: speaker stands. A pair of nice stands can:
Reduce speaker rattling on your desk (especially with bass-heavy audio)
Angle speakers to your ears
Minimize sound reflection off your desk
You can get a pair of good stands online for less than $50 – a worthwhile investment for any serious video editor.
6. Quality Headphones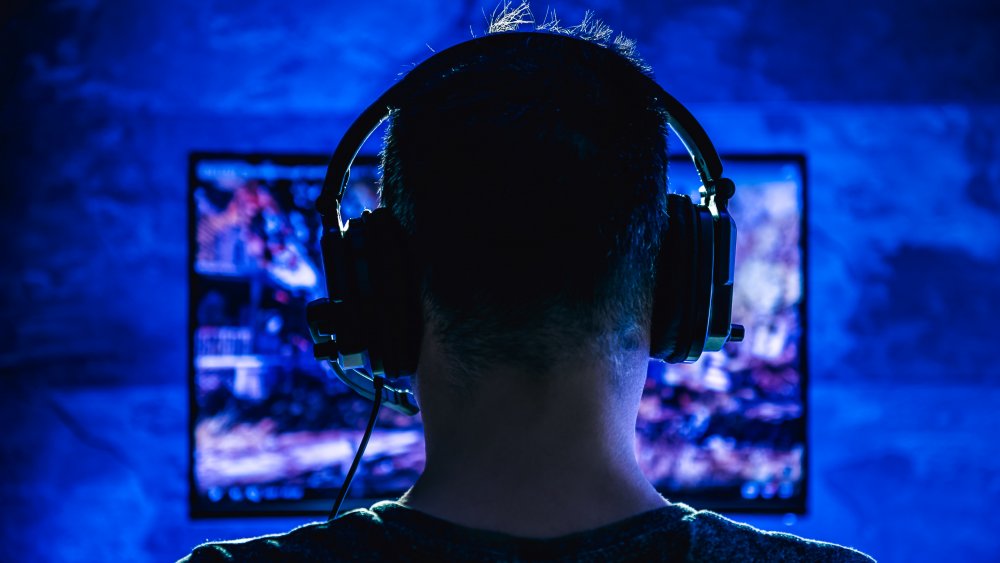 Are your headphones still comfortable after wearing them for an hour? What about three hours? Ten hours? If not, look into getting a quality pair you can actually keep on.
Avoid consumer-focused headphones, like Beats or Skullcandy, which often have over-pumped bass. Instead, look for monitoring headphones (also called reference monitors).
7. Video Editing Shortcut Keyboard
Keyboard shortcuts save time when video editing…we know this. But unfortunately, it's difficult to get into a groove using shortcuts (for new video editors) or knowing every shortcut for your application (for experienced video editors). A dedicated video editing shortcut keyboard solves this issue.
We're really digging into these new models from Amazon (shown above). Each key is backlit so you can see the shortcut icons in the dark of your editing suite – very useful.
8. Gaff Tape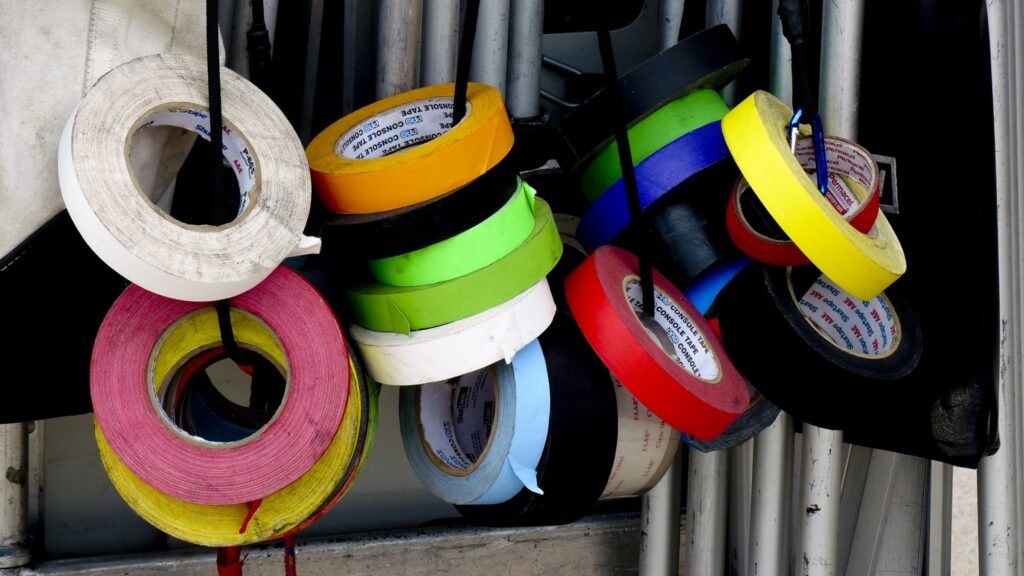 Gaff tape isn't only for on-set. Although pricey, it's also a versatile product to have around your edit bay. You can use it to label hard drives, tape down and secure any equipment wires, or mark any steps or light switches in your dark edit bay (also called "spiking").
 What we love about gaff tape is that it doesn't leave behind a sticky residue when removed.
9. Extra Cables & Adapters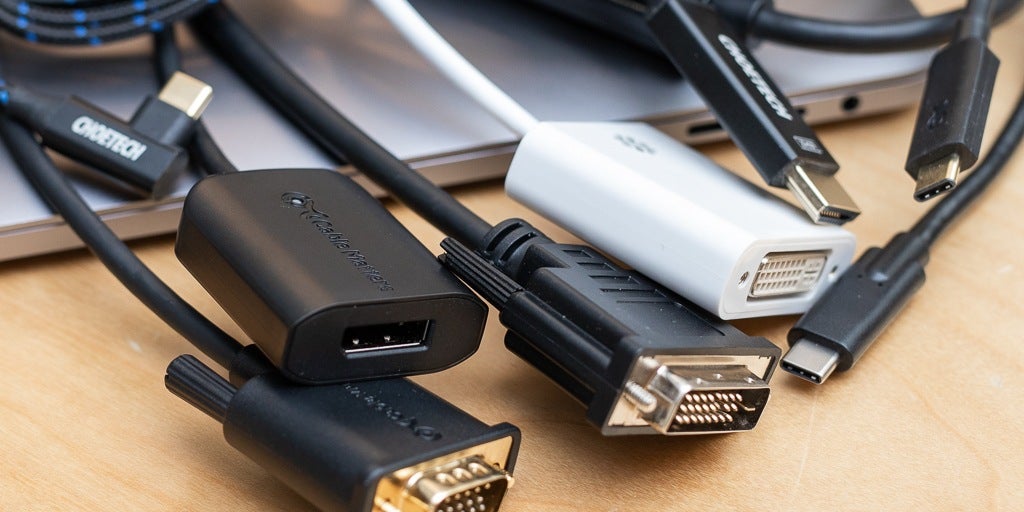 Every video editor needs a toolbox with extra cables. I've been sent hard drives with footage…but without any cables. Luckily, I keep a variety of extras on hand: problem solved. A few cables I always have:
Amazon has their own line of cables and adaptors that are inexpensive and highly reviewed.
10. USB Mic
A mic in an edit suite – why would you need that? Scratch tracks. Having a decent mic on hand is a quick way to rough in voiceovers or pick-up audio. For instance, when editing I'll often record myself reading a voiceover part and add it to the timeline just so I can get a good sense of the timing. There's no need to wait until you have the final VO track recorded from your voice talent.
The Yeti Microphone by Blue is a great choice because it's versatile and USB powered (no need for an external audio interface). You can easily change the patterns (Cardioid, Omni, Stereo and Bi) and it comes complete with a little stand that won't take up a lot of real estate on your desk.
Bonus: A Plant
Hey, it worked for Léon the Professional. It might sound crazy but there have actually been a number of studies in recent years that tout the health benefits of having plants in your work area (reduces stress, improves attentiveness). Small bamboo plants are a good option in super low light conditions, like a video editing suite. It'll also create a nicer environment for when clients come to visit.
Got your own suggestions? Let us know in the comments below!
Please follow and like us: